TacticalPaintball.Org
Paintball Gun Packages
TIPPMANN A-5 A5 RT PAINTBALL Gun Flatline SNIPER Set
Description
The All New Tippmann A-5 is a high performance paintball marker with the patented Cyclone Feed System. The Cyclone Feed System Links the Feeder Sprocket to the Air System. The Faster you shoot, the faster the Tippmann A-5 feeds. Pull the Trigger 15 times a second, and the Tippmann A-5 feeds 15 balls per second. The Tippmann A-5 is also easy to clean and maintain with its no tool field strip feature. Innovative technology, maximum firepower, unsurpassed accuracy and Tippmann durability are the core foundations of the all new Tippmann A-5. The Flatline barrel is designed to add at least 100ft of flat trajectory distance.
This is the brand new W.A.S Board Egrip for The Tippmann A5 Gun. With this WAS board installed on the Egrip the A5 is capable of firing 25+ Balls Per Second. This auction includes the whole A5 Egrip plus the WAS board. There are no dip switches. All settings are stored internally. Dwell, Debounce(tm), rate of fire cap, and firing mode can be programmed using the trigger and LED. The different firing modes are 1. Semi Auto NPPL Legal, 2. 3 shot ramping PSP Legal, 3. 3 shot full auto NXL Legal, 4. Auto Response, 5. Turbo.
What's Included in the Box
New Tippmann A5 Marker
A5 Cyclone Ammo Hopper
A5 Flatline Barrel and Standard Barrel
Tippmann A5 WAS Egrip
A5 Tactical Stock 6 position Adjustable Stock
UFD Heavy Duty Coiled Remote with Quick Disconnect On/Off
PMI/Spyder 20 oz CO2 Tank with pin valve
Black 6+1 Deluxe Paintball Harness
6 - 140 Round Heavy Duty Pods
Allen Wrenches
Standard Gun Oil
Tippmann Barrel Condom
2 Cleaning Cables for Flatline and for Standard
Operators Manual
Full Two Year Warranty From Tippmann.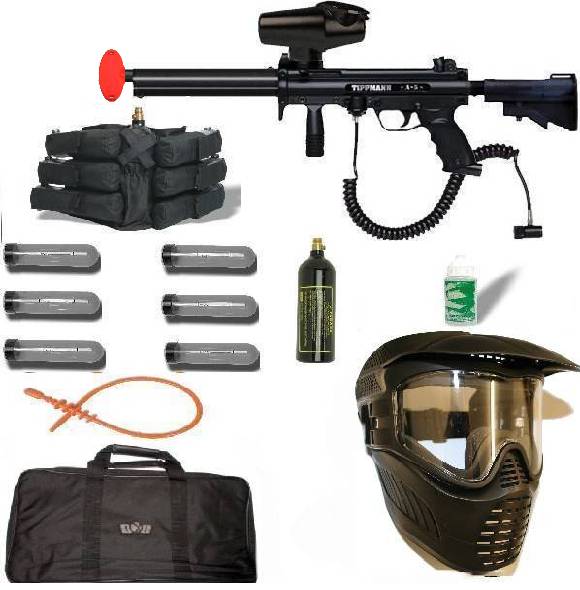 TIPPMANN X7 X-7 Paintball EGRIP FLATLINE Gun Sniper Set
X7 Egrip
The external mode X7 e-Grip can shoot up to 20 bps and be programmed to fire up to 30 bps. It features 5 firing modes including semi auto, turbo, 3-shot safety burst, auto response and full safety auto. New weatherproof system is great for woodsball play and can change modes on the fly. Internal mode system can also be set to semi-auto to allow the e-Grip to meet regulations of any organized field event. Requires 9 volt battery not included.
Features
The most customizable marker ever made with a thousand different looks
New magnesium receiver is extremely lightweight and durable
New Cyclone EP (Enhanced Performance) system feeds up to 20 BPS
New air-thru stock compatible system eliminates gas line under the marker
New low profile, offset hopper for clear site line
Modular shroud with four rails to add on sights and scopes
AR15 style magazine with built in tool storage
Picatinny top rail to easily add new risers, sights or handles
Upgraded adjustable rear site helps with long range aiming
Push pin design for easy field stripping and accessory add on. X7 Upgrades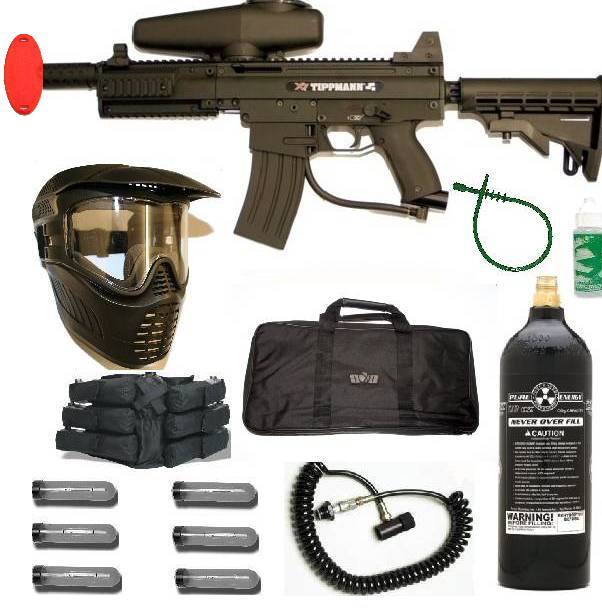 TIPPMANN A-5 A5 RT PAINTBALL Gun Flatline M4 (modded)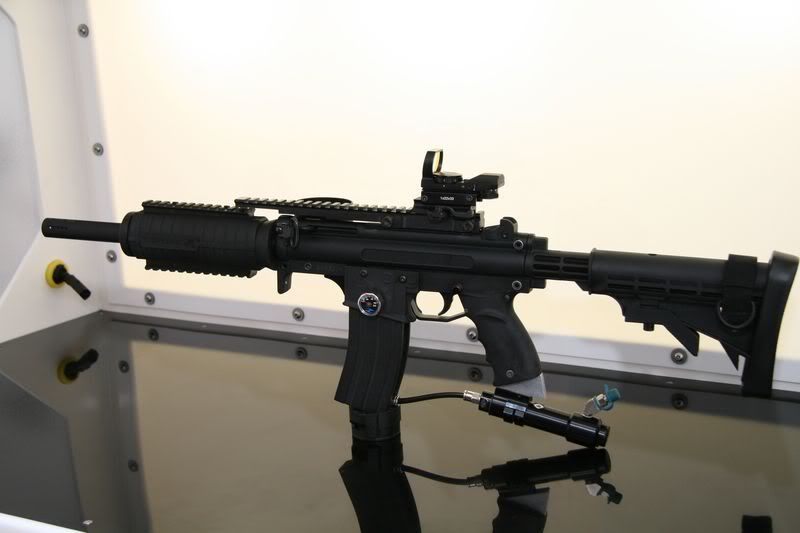 TIPPMANN X7 (modded)
With a wide range of upgrades the Tippmann X7 is a real customizeable dream. It is also not uncommon to see these bad boys in action across they playing fields. If you're going to go up against one of these things you'd best bring your A game.They are capable of delivering up to 30 balls per second! Don't get left behind! get yours now!
Smart Parts ION Paintball Gun + ER Sonic DB + 48/3000

Features:
Ultra fast rate of fire - 17 bps in semi auto and rebound modes, and 10 bps in 3 shot burst or full auto modes.
Extremely lightweight - weighs in at just 2.2 lbs.
Break-beam Vision eyes - shoot up to 17 shots per second without ever chopping paint
Interchangeable Body Kits - Instantly change the color of the Ion's body with 4 different composite shells
Adjustable trigger - shorten the trigger pull without ever taking the Ion apart. Full adjustable forward and back travel to customize the trigger exactly how you want it.
9 volt battery operation - easy to find and replace 9 volt batteries. No more expensive battery packs. One 9 volt battery is included. Does not come with charger.
Easy disassembly - One 1/8" Allen wrench (included) is all you need to disassemble the Ion
Vertical feed tube Orings - fit a wide variety of hoppers without having to buy a new feedneck
Durable ball detents - last 10 times as long as current ball detents
Gas efficient - get between 1000 to 1400 shots from a 68ci 4500psi fill
Impulse barrel and feedneck threads.
Includes barrel cover and parts kit Smart Parts Ion Upgrades

This package include a BRAND NEW smart parts ION black gun, Java/PMI 48ci 3000 psi compressed air tank(1 lb lighter than a 72ci), & Extreme Rage Overdrive Sonic Db.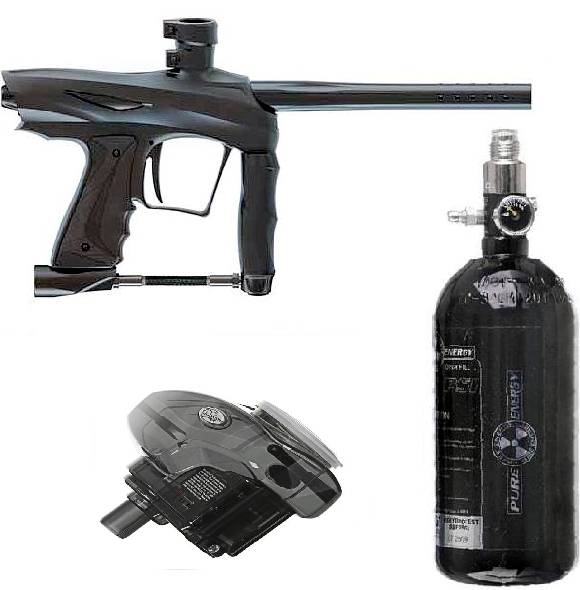 Smart Parts Ion XE Paintball gun black The embodiment of affordable firepower. Ion changed the paintball paradigm by being the first marker to deliver true electropneumatic performance in the casual paintball player's price range. With multiple firing modes, an aggressive rate of fire, and break beam Vision anti-chop system, the Ion XE continues the Ion tradition of tournament level performance at a low price. The best feature of the new ION XE is the Bolt out Back design. This new design allows even a novice player to clean the bolt in seconds.